Review: Zampatti Powerhouse—Powerhouse Museum Sydney. Gucci Garden Archetypes—Powerhouse Museum Sydney.
GUCCI GARDEN ARCHETYPES, "an immersive, multimedia exhibition exploring the seminal advertising campaigns envisioned by Gucci Creative Director Alessandro Michele" was advertised on seemingly every surface in Sydney this Summer. The house of Gucci generates $10 billion annually and spends $100 million on advertising (the fashion industry's global revenue is estimated between $1.7 trillion and $2.5 trillion) so I was curious for some insight into their strategies. I dropped in on opening weekend. The exhibition was free, but bookings were required, and I found myself in quite a long queue.
Waiting beside an enormous cassette-pink wall emblazoned with the Gucci Star Eye motif, I reflected on previous excursions to fashion exhibitions. I've been interested in them ever since my grandmother, who was herself a seamstress, took me to see the Victoria and Albert Costume Collection in London. It was 1995, and I was seven years old. The V&A Collection, which spans five centuries, is the largest and most comprehensive in the world, and I remember being completely entranced by the garments themselves but also by the stories associated with them. While apparel cannot be said to literally "talk", there is little doubt that it communicates, with a language and semiotics of its own, and that individual items can be read as explanations and texts of personality and character. The last fashion exhibition I had seen was the Musée Yves Saint Laurent Paris in 2019, which I would recommend to anyone, even someone without my passing interest in haute couture. Based in an impeccable townhouse that once functioned as Mr Saint Laurent's atelier, the museum was filled with exquisitely arranged and impossibly elegant designs, jewellery, accessories, and dresses. They were curated superbly to function as biography, detailing the designer's life, influences, and impact.
Gucci Garden Archetypes, I read while standing in line, **launched in Florence in 2021 to celebrate the luxury fashion brand's 100th anniversary, and then toured Shanghai, Hong Kong, Taipei, Tokyo and Seoul before landing in Sydney. "We've brought Gucci on a crazy tour into uncharted territories of dream and poetry," Michele, who in a moment of synchronicity stepped down as director just as the exhibition launched in Australia, said at its Italian launch in 2021. The exhibition recreates the sets of what Vogue writer Tiziana Cardini describes as the most "conceptually adventurous" and "visually impactful" advertising campaigns envisioned by Michele in his nearly eight years at the helm of the Italian label. Michele himself describes the exhibition as "a playground of emotions," which invites us "to cross the imaginary, the narrative, the unexpected, the glitter" and offers insights into the symbols, musings and collaborations that inform his work. I had seen and enjoyed House of Gucci, the biographical crime drama film directed by Ridley Scott (starring Lady Gaga, Adam Driver, Jared Leto, Jeremy Irons, Salma Hayek and Al Pacino). It was flush and warm with scandal and sensation and I was hoping that Michele would deliver something similar.
Eventually, we were ushered into the corridor leading into the exhibition, which, as a sort of amuse-bouche, was wallpapered with amateur French-language graffiti reminiscent of Michele's pre-fall 2018 collection, "Gucci Dans Les Rues", intended as an homage to the Paris riots of May 1968. Next, we found ourselves in the midst of "Gucci In Bloom"—a garden of fake flowers containing a single floral couch in a callback to the 2017 commercial, which starred Dakota Johnson. Then there's a red lacquered bathroom replicating the one in a Berlin nightclub where the spring 2016 campaign was shot, referencing the "Rebellious Romantics" collection, which was inspired by the German city's youth subcultures. Moving into a floor-to-ceiling mirror-lined room (don't go commando), we were confronted with a display featuring hundreds of cuckoo clocks, Marmont handbags, stuffed toys, ceramics and porcelain: these represent that 2018 "Gucci Collectors" campaign. We passed through a mirrored 'maze' with a dance party on loop encapsulating the 'vibe' of the "Dionysian Dance Cruise" 2016 campaign, and then onto an LA subway carriage from the "Urban Romanticism" 2015 campaign, where we pressed an exit button which released us back into the foyer.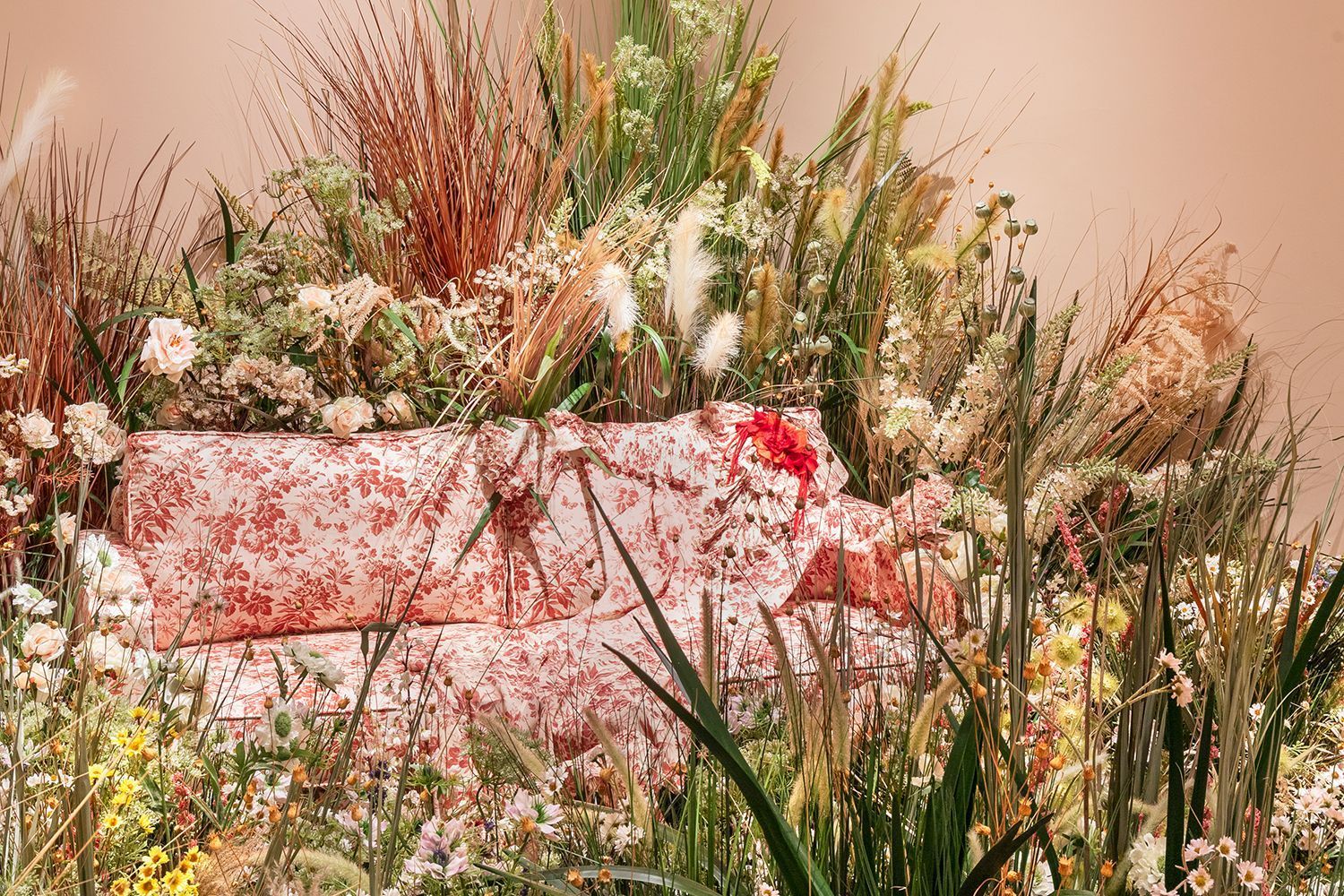 Judging by the behaviour of the other visitors (and by the hundreds of thousands of images on Instagram with the #guccigarden hashtag), we were meant to take photos. We were meant, somehow, to negotiate a clear space uncontaminated by the dozens of other people present, place ourselves against these haphazardly staged backdrops, pose, and then post, thus perpetuating the Gucci campaigns. ("It's like, a metaphor for itself. It's very meta," said Powerhouse Museum CEO Lisa Havilah.) But I wasn't dressed to be in a Gucci campaign, and the outfit I was wearing, and those other people were wearing, made a mockery of the models we were supposed to emulate. The claustrophobic network of themed spaces and their installations certainly gave an aperçu of the designer's audacity, but I'm pretty sure Mr Guccio Gucci would have turned in his grave if he had witnessed this hot mess. Gucci Garden is rated #75 out of 703 things to do in Florence, but it has hundreds of terrible reviews, most with the same complaint: there is no explanation, no information, no history, no context and, most egregiously: there are no clothes.
Carla Zampatti: stories of clothes through the women who wore them
Having been in and out of Gucci Garden in less than fifteen minutes, I still had time before lunch. So, I meandered through the rest of the museum, only to discover that there was another exhibition—which was free and for which tickets were not required—inspired by a fashion house: Zampatti Powerhouse, the first retrospective of renowned Australian designer, business leader and philanthropist Carla Zampatti, AC. "It shares the story of one of Australia's most iconic fashion designers," writes Havilah "who not only contributed to the everyday lives of so many but had significant impact and influence as a high-profile émigré success story, an inspiration for women in business - in fact, women across and through all works of life".
I entered a ballroom full of one hundred mannequins in immaculate outfits, Vivaldi playing in the background. The floor, roof and walls were black, but the room felt expansive, and I was the only visitor. The clothes were displayed on eleven raised plinths by colour and theme—red, jumpsuit, animal print, graphic, blouson, black-and-white, wedding, power, blue, bikini, evening wear. The overall impression was of arriving at a party filled with well-dressed women I wanted to meet.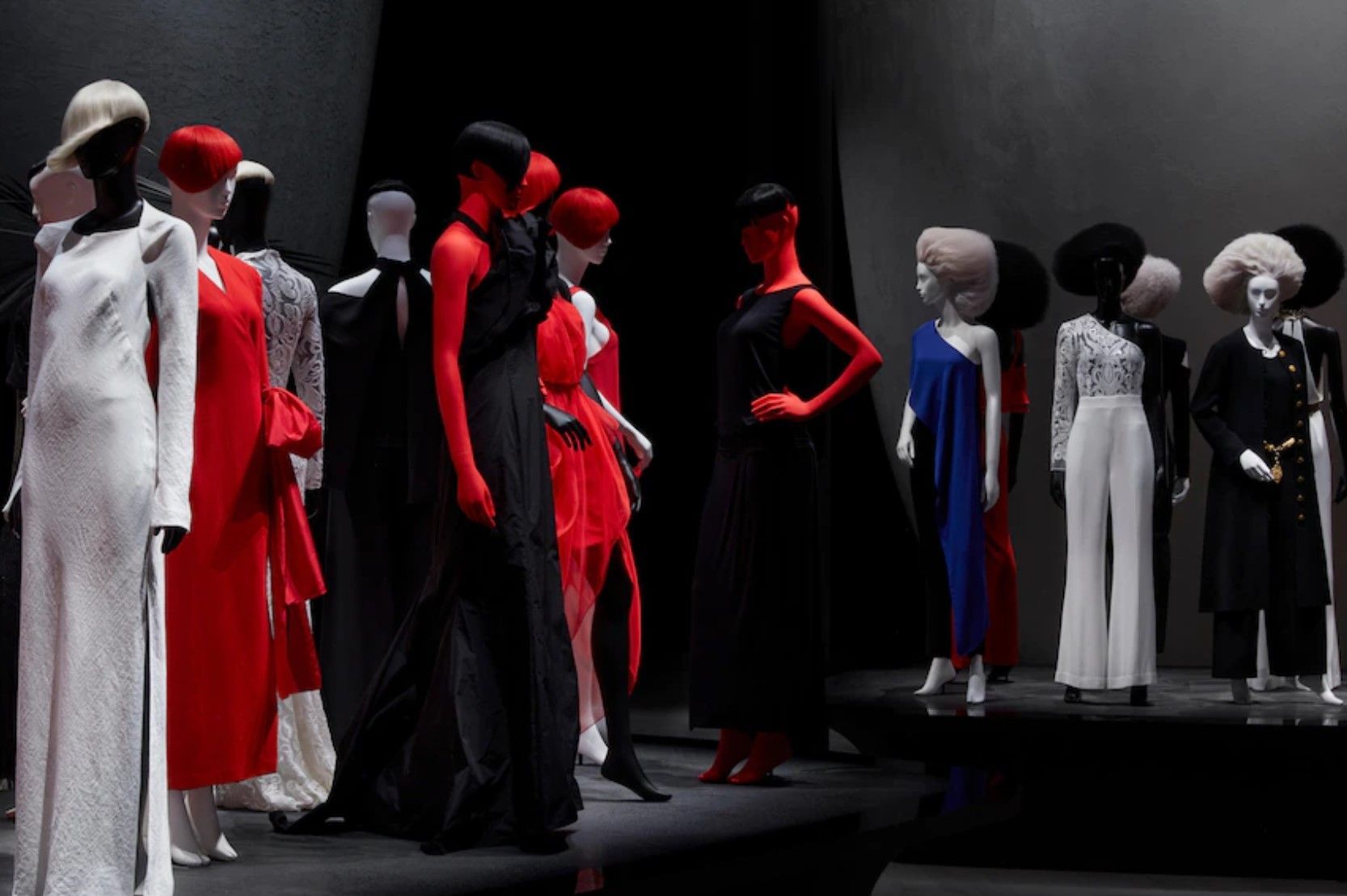 Standing beside the door was a 'Florentine' coat and dress, made of white cotton, lace and black velveteen. "My mother Leigh purchased this dress to wear to a wedding that she attended at the Sebel Town House Hotel in Elizabeth Bay," a woman named Tess Scully had written for the caption, "At the time, Leigh was enjoying being a young working woman, having completed her teaching qualifications, and delighted in purchasing this dress". Next to it was a 'Diana' maxi dress. "This dress was bought at the Carla Zampatti outlet, Surry Hills, in 1973," said Pamela Jupp. "I wore it only once or twice to parties as it was a bit risqué for a newly-minted health professional in the 1970s". Margaret Amey wrote, about a 'Cubist' shift dress: "We moved to Hong Kong in the mid 1970s. I wore this dress on many social occasions and it was a perfect dress for the hot tropical weather. Once, when I was on the Star Ferry crossing Victoria Harbour, I was stopped by a lady and asked where I had bought my dress. 'It's a Carla Zampatti and it's Australian' I replied very proudly".
The exhibition, I soon realised, was the result of a public call-out: the items had been solicited from the closets of Zampatti's many clients, and almost all of them were accompanied by stories from the broad church of women who owned them. Some belonged to celebrities, politicians and other public figures, but most had been worn by ordinary working women like Zampatti herself. Women wrote affectionately of wearing their 'Carlas' to milestone events—weddings, birthdays, engagement parties, funerals, high-school reunions, award events, and graduations.
I came across a black wool crepe wraparound skirt, which was on loan from Dame Quentin Bryce; a red jumpsuit Delta Goodrem wore to the Adelaide Supercar Championship in 2017; a blue crepe dress Miranda Kerr wore to the Women of Style Awards in 2015, and a "Winged Goddess" polo top and pants worn by Nigella Lawson. HRH Princess Mary of Denmark had lent one of her pieces to the exhibition: the custom pink brocade gown she wears in her official portrait. Other iconic pieces worn by high-profile Australian women in defining life moments include former Prime Minister Julia Gillard's jacket worn when she addressed the US Congress in 2011; the red pantsuit worn by Linda Burney for her official parliamentary portrait in 2019; Tina Arena's jumpsuit, personally fitted for her ARIA Hall of Fame induction in 2015; and the white jacket worn by Christine Holgate when speaking at the Australia Post Inquiry in April 2021. Holgate wrote, "Carla said to me, 'Darling, you must go, and you must look fabulous".
There was the sense, reading the stories from those who responded to the Powerhouse call-out, of another era and ethos. Fashion was slow rather than fast. Garments were cleaned, cared for, mended, and stored carefully. For many Australian women, particularly in the early years of Zampatti's career, fashion items were purchased only occasionally and consequently were treasured. Many women spoke of stretching their budgets or using lay-by to afford pieces. For most, it was a special purchase, an investment piece, for some of their most rite-of-passage events. Tanya Davis, of Forestville in Adelaide, for example, spent $600 on her first piece of designer clothing—a strapless black silk-lined wool crepe evening dress—for her 21st birthday party in 1995. "At the time, my mother said to me, 'This is the kind of dress you could wear well into your 40s', which I thought was ridiculous, as I couldn't imagine being 40, let alone that ever happening." But Davis wore the dress again last year to a black-tie event, 26 years after its first appearance. Yvonne Diet had written about a 'wave' mini dress: "I was wearing this dress when I first met my husband Bruce in 1968. At 73 years old, I still wear the dress at least once a year for our wedding anniversary." Another woman, Robyn Fox, had lent a silk damask maxi dress. "I wore this dress to my graduation ball at the Sydney Hilton in May 1985. The expense was more than worth it for such a lovely dress". John Tevelein lent a dress that belonged to his late wife. "Barbara purchased this dress in Sydney around 1975. I was an army officer at the time, and I remember that she wore it to military balls in Melbourne and Hobart and in London in 1977 when she studied at Le Cordon Bleu cooking school".
Several women who wrote to the museum wore a Zampatti dress for their wedding. Ranwi Morris, for example, wore a long, cream, Grecian-style gown for her then-unconventional ceremony in 1978—a civil union held at the El Alamein Foundation in Sydney's King's Cross. Melody Ng wore a floor-length, long-sleeved, all-over lace Zampatti dress at her wedding in 2013. Ng, of Darlinghurst, Sydney, had seen the dress in a photograph online but had trouble finding it anywhere. Eventually, she skipped a work meeting to arrive early at a sale at Carla Zampatti's city headquarters. "And there it was, hanging there, in my exact size; it fit so perfectly that other people in the store actually gasped." Ng says that, normally, her style is such that she looks like a kid in streetwear. "I am not Carla's demographic, but there was something about that dress; it just spoke to me. And the lady running the sale said it was hand-washable!" Natalie Nixon wore the same design as Ng to her wedding in the Cook Islands in 2015. "I was the most comfortable bride," Nixon says. "I wore it with shells on my feet and did my own natural hair and makeup. I didn't even wear underwear! The wedding was on the sand on a private island. Afterwards, a little bit tipsy, I jumped into our pool—in the dress!"
To bring elements of Zampatti's life beyond fashion into the exhibition, a sound pod and a video pod sit alongside the mannequins. On a high curved wall in the video pod, running on a continuous loop, are interviews with major figures in the designer's life, including her children, customers, and friends, such as Ita Buttrose and Gladys Berejiklian. The sound pod has mined interviews with Zampatti herself and includes excerpts of her talking about her process and her memories.
Born in Lovero, Italy, in 1938, Zampatti settled with her family in Fremantle, Western Australia, in 1950. In 1965, she produced her first collection, followed two years later by a national launch, and in 1970, by the establishment of Carla Zampatti Limited. She opened her first boutique in Sydney in 1972, and from there grew the chain to 30 concept stores across Australia. Among her many accolades, Zampatti was named the inaugural Australian Business Woman of the Year in 1980, awarded the Australian Fashion Laureate in 2008, and was made a Member of the Order of Australia (AM) in 1987 and Companion of the Order of Australia (AC) in 2009. On the 26th of March 2021, Zampatti attended the opening night of Opera Australia's La Traviata at Mrs Macquarie's Point on Sydney Harbour, where she fell down a staircase and was knocked unconscious. She died from her injuries a week later, on April 3rd, at St Vincent's Hospital, aged 78. Zampatti's family accepted the offer of a state funeral from the New South Wales government. The service was held at St Mary's Cathedral, Sydney on the 15th of April 2021, where many mourners wore her designs. Her daughter said, "If she was alive, she'd say this is the best-dressed funeral she had ever attended."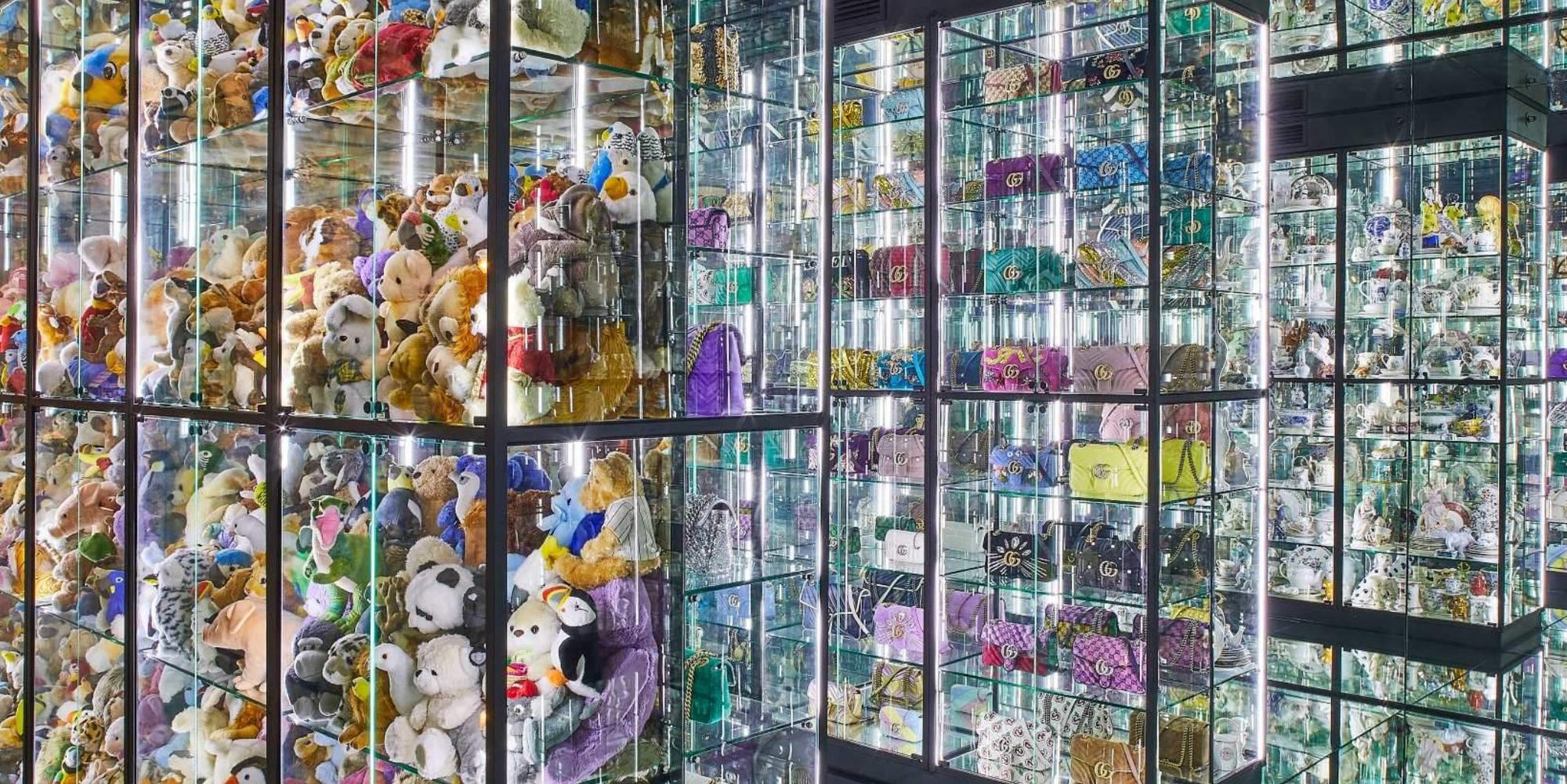 There's a signature Carla Zampatti look. Shoulders are strong, lines are neat, colours are bold, shapes are clean, the cut is suave, fit and fabric are at the fore. 'Carlas' are smart, practical, and fashion-forward. Styles appear again and again in different fabrics (jersey, linen, velvet, crepe, metallic, taffeta, satin, sharkskin), colours (from 'Bahamas Blue' to deep onyx), patterns (from houndstooth to giant polka dot) and with different trims (rosettes, fringes). And then there are the cuts that repeat through the collection—among them, tuxedo, Nehru-collared, kimono, wrap, ruffle-edged, tie-fronted, double-breasted, zippered and ruffle-necked. In her autobiography, My Life, My Look, Zampatti revealed that her mantra, her 'sacred formula' was to create fashion that looked expensive yet was affordable. "The secret to that type of dressmaking was almost entirely in the cut: how the fabric touches the body in all the right spots, framing a woman in a way that accentuates her best features and camouflages the rest," she wrote. "The most expensive fabrics count for nothing if the cut isn't right. It's the cut that instils me with the confidence to walk into a room and feel really good about myself".
Curator Roger Leong has done a new thing for Australian museums: told the stories of clothes through the stories of the women who wore them.  If you're not already a Zampatti admirer, you will leave this exhibition minted. The breadth of her extraordinary private, professional, and public life is rendered in extraordinary detail, anchored by Zampatti's designs and brought to life with reflections from the designer's clients, family, staff, and friends.
Gucci Garden Archetypes and Zampatti Powerhouse have little in common other than the fact that they were exhibited under the same roof at the same time.  One is a glamorous ode to a single Australian brand. The other is a somewhat unexpected trip on what feels like a spaceship. There is little thematic continuity. But together, they do raise some interesting questions about the nature of fashion exhibitions, especially the visitor experience, and I'm certain that Havilah had this in mind when she decided to display them simultaneously.
For instance—what are fashion exhibitions for? Nowadays, designers and brands are able to present, promote and market their work through various forms and media: from seasonal catwalk shows, showrooms, stores, look-books, magazine editorials, printed catalogues, and fashion films, to websites, internet stores, social networks and blogs. Why should the museum, too, become a site for advertisement? The charge of commercialism is frequent and raises questions about curatorial integrity. It is undeniable that the motivations of fashion brands like Gucci and Carla Zampatti to cooperate with curators in having their work displayed in museums are largely about prestige, self-promotion, and profit. This presents curators with persistent and sometimes delicate realities to negotiate: curatorial work must embrace and acknowledge the commercial character of the fashion industry because attempts to eliminate this aspect will only lead backwards, to approaches that decontextualise the objects on display, be-it handbags, shoes, or hats etc. But is commercial sponsorship then compromising curatorial independence within exhibition research, interpretation and presentation? If so, how? And what can be done about it? The commercialisation of designer fashion exhibitions and the resulting public criticism are problems that need to be addressed, not avoided.
That being said, neither Gucci Garden Archetypes nor Zampatti Powerhouse sent me running to the store to buy something from their current season, nor did I feel obliged to. I would like, one day, to own a 'Carla', and I am fortunate in that I do possess a few luxury items, including a Gucci scarf, (the acquisition of which would be an article all its own), but viewing designer fashion in a museum affords me the opportunity to behold and appreciate objects I will never possess. Possession, if there is to be any, becomes an intellectual process. The museum, unlike the department store, provides the distance required for disinterested aesthetic contemplation. By showing fashions that do not require me to wear them, the museum short-circuits the commercial relationship, to the benefit of the imagination, freeing luxury garments from the mercantile and permitting a rich, personal exposure that opens the visitor to a greater cognition of what is displayed before them. Ultimately, this is why Gucci Garden Archetypes fails, and Zampatti Powerhouse succeeds. The former is a spectacular, entertaining marketing tool that resembles a series of empty showrooms; the latter tells a complex story that encourages deep reflective thought and makes a sophisticated, educative contribution to our understanding of Australian fashion. 👗